The Bazaar (Washington, DC)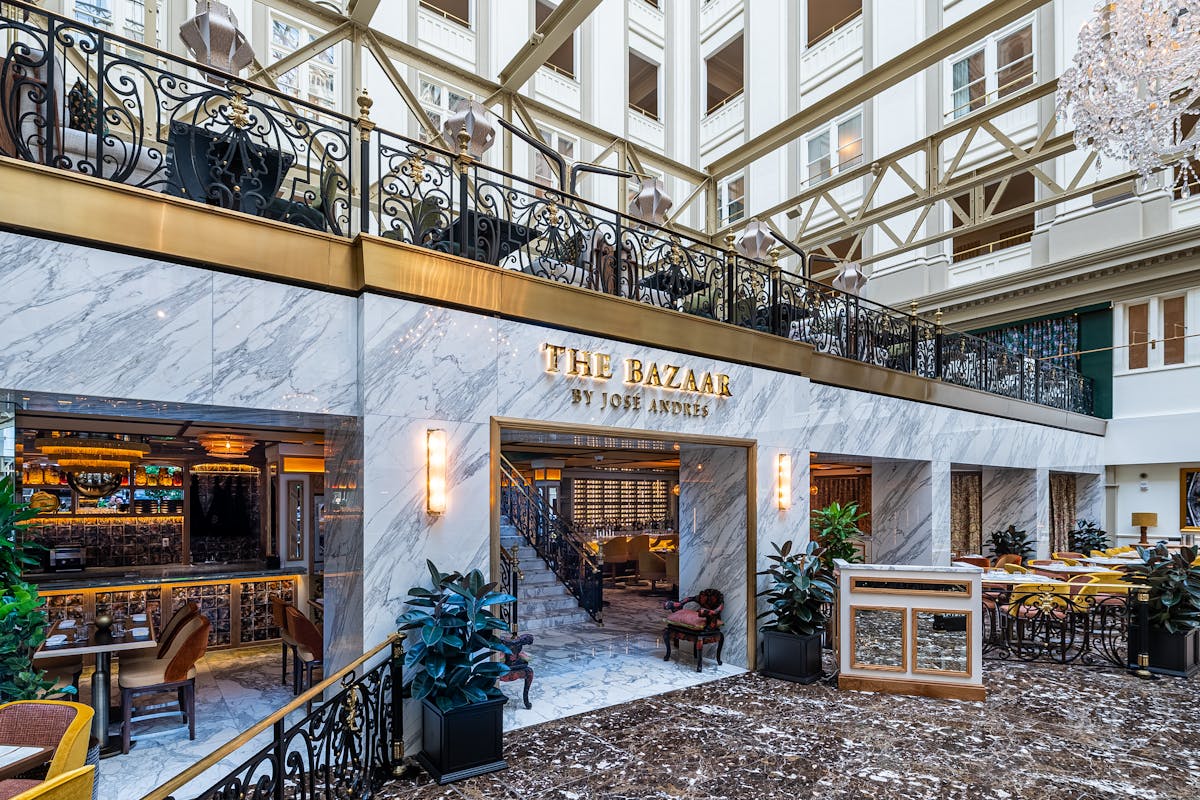 THE BAZAAR BY JOSÉ ANDRÉS OPENS AT THE OLD POST OFFICE BUILDING IN WASHINGTON, DC
A dream 30 years in the making, Chef Andrés opens the flagship restaurant at the new Waldorf Astoria
WASHINGTON, DC (February 8, 2023) - José Andrés Group is proud to introduce The Bazaar by José Andrés in the historic Old Post Office building in Washington, D.C., relaunched in 2022 by CGI Merchant Group, in partnership with Hilton, as part of the Waldorf Astoria Hotels & Resorts brand. The opening of The Bazaar signals the culmination of a 30-year journey for Chef Andrés, who has dreamed of opening a restaurant in the historic building since he arrived in Washington, DC in 1993.
"I am thrilled to introduce The Bazaar in the Old Post Office - this debut has been a long time in the making and marks a tremendous celebratory moment for the great city of Washington, my team, and me personally" said Chef José Andrés. "It has been thirty years since I first came to DC, and to have The Bazaar open in this beautiful, historic building that has always held a special place for me, is an American dream come true."
"As The Bazaar continues to grow and flourish in new cities, the Washington, DC opening at the Old Post Office is symbolic for many reasons." Sam Bakhshandehpour, the president of José Andrés Group, said. "This is a full circle moment for the company long rooted here and invested in the continued economic prosperity of the city, the culinary community, and our loyal guests."
First conceived in Los Angeles in 2008, The Bazaar takes guests on a sensory adventure where anything is possible and pays homage to José's Spanish roots and inventive style. The culinary experience in Washington, DC will offer The Bazaar's signature playful dishes, while infusing new menu items that boast an Americana flair and nod to US history. The Beef Cheeks "Eisenhower Stew" is a tribute to President Eisenhower's favorite dish while he was in office, while the Crab Louie Cone, "Philly Cheesesteak" Airbread, and the Norwegian Lobster "Newberg" represent classic American dishes. Local ingredients such as Maryland Blue Crab, Rappahannock Oysters, and the bounty of the Chesapeake Bay are prevalent throughout the menu and symbolize a homecoming for The Bazaar in Washington, DC, where José Andrés Group is headquartered.
The restaurant will offer breakfast, lunch and dinner, as well as an all-day bar service. Breakfast and lunch will be served on the lower level, while dinner will be served on the upper mezzanine level to provide a variety of different dining experiences throughout The Bazaar.
Making its home in the historic landmark of The Old Post Office, The Bazaar is situated in a Romanesque Revival building, which first opened in 1899 and served as DC's General Post Office until 1914. World-renowned Spanish firm Lázaro Rosa-Violán drew inspiration from this grand architecture to create a home befitting of these avant-garde delights, an ode to craftsmanship with a Spanish signature. The multi-level destination begins with an elaborate, dedicated 6-seat bar outfitted with a brilliant green Aqua quartzite top and unique finishes such as textured glass, handcrafted tiles, and fabrics embellished with fringe, that welcomes guests from day to night. Upstairs, dinner awaits with a verdant oasis of lush, emerald velvet banquettes, custom floral fabrics inspired by the Spanish Surrealist artist Salvador Dalí, black marble topped tables and golden glowing custom lighting fixtures elegantly finished with hammered brass. An array of plants, including Ficus, Pleomeles, and Philodendrons, and an iconic gleaming orb above the entrance, invite guests to feel as though they are dining under the moon.
Since its inception in 2008, The Bazaar has since grown to have locations in Miami's South Beach, forthcoming at The Ritz-Carlton New York, NoMad, as well as inspired the creation of Bazaar Meat, a wild and wonderful celebration of the carnivorous, with outposts in Las Vegas, Chicago, and later this year at The Grand LA, downtown Los Angeles' newest cultural corridor.
For more information: https://www.thebazaar.com/washington-dc/
###
About José Andrés Group
José Andrés Group (JAG) is the creative team behind renowned dining concepts and the dynamic media company named for Chef and Founder José Andrés. Originally conceived as ThinkFoodGroup with co-founder Rob Wilder, and now led together with President Sam Bakhshandehpour, the newly named company reflects the breadth of its mission to change the world through the power of food, through its innovative restaurants and thoughtful storytelling across multi-media platforms. With over thirty restaurant concepts in Chicago, Las Vegas, Los Angeles, Miami, New York City, Orlando and Washington D.C, The Bahamas and the United Arab Emirates, José Andrés Restaurants offer culinary experiences that span from food trucks to world-class tasting menus, including the two Michelin starred minibar by José Andrés in Washington, D.C. Formed in 2021, José Andrés Media was created to share how food connects people around the world. The production company specializes in unscripted and scripted television series, books, podcasts, and digital short- and mid-form content with a focus on food-related stories and characters, and the culture of food. José Andrés is an internationally recognized culinary innovator, New York Times bestselling author, educator, television personality, and humanitarian, twice named one of Time's "100 Most Influential People," and awarded "Outstanding Chef" and "Humanitarian of the Year" by the James Beard Foundation as well as the inaugural "American Express Icon Award" by the World's 50 Best Restaurants. For more information, visit www.joseandres.com
Media Contacts
For additional information, please contact:
Chloe Mata Crane, cmcrane@baltzco.com
Jamie Silverman, jsilverman@baltzco.com