8 Questions with Chef de Cuisine Holly Jivin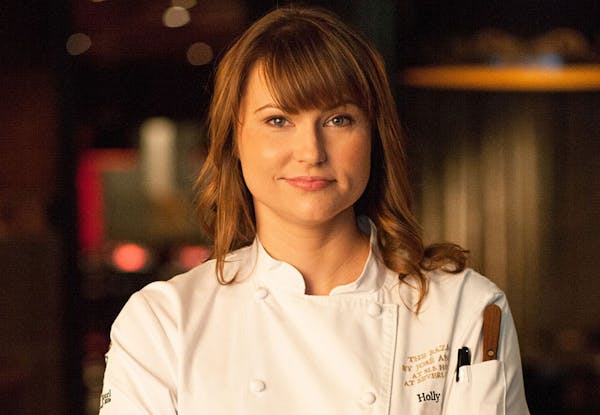 The flagship Bazaar in Beverly Hills has seen more than a decade of wild and imaginative Spanish tapas – and Holly Jivin has been there since the first Philadelphia air bread was made. The southern girl sharpened her knives in the Culinary Arts program at the Art Institute of Atlanta before Chef Michael Voltaggio (and the promise of working on a new menu by Chef José Andrés) lured her to California. After moving up the ranks, she took over the open kitchen in 2013 and has been a fixture of the inventive restaurant ever since.
1. You've been with The Bazaar at SLS Beverly Hills from the beginning – over a decade! What first attracted you or brought you to The Bazaar?
I was living across the country in Atlanta at the time that I heard about the opportunity to work at The Bazaar. Who would turn down an opportunity to drive across country, start a new cooking job, open a new restaurant inside a Luxury Collection hotel with food designed by José Andrés? I was terrified, but there was never a doubt this was an opportunity I couldn't pass up.
2. You grew up in Savannah, GA. What's your favorite Southern dish?
Low-country boil.
3. Is Southern your favorite type of cuisine to cook or eat or is there another cuisine you prefer?
I eat just about everything. One thing that I've grown most fond of living in LA is the variety of food you can eat at any time of day or night.
4. You have a fondness for farmer's markets. If there were one produce item that best represents your personality or cooking style, which would it be and why?
Here in LA, JJ's Lone Daughter and Laura that's there every week is my favorite spot to shop. They have the most amazing avocados and citrus.
5. You've been recognized for your mentorship of younger chefs. What do you think is the most important quality to have to excel in a kitchen?
An open mind and good attitude will always help you thrive in your career and take you places you want to go.
6. Working with José must be an adventure. What is your favorite José moment?
Spending time with him and his family cooking in Zahara de los Atunes, a village on the coast of Andalusia in southwestern Spain.
7. What dish that you've created are you most proud of?
Probably oysters and hibiscus since it was one of my winning dishes and photos for Starchefs.
8. If you could only eat one dish from the menu at The Bazaar for the rest of your life, what would it be and why?
Rossejat!