8 Questions with Head Pastry Chef Mitzi Reyes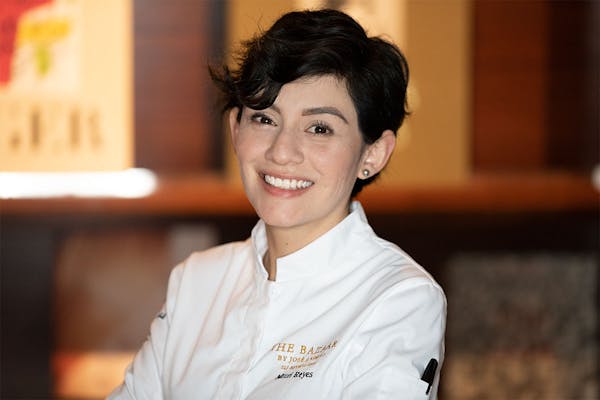 "Our graffiti is like a canvas. They're all going to be different, because every single person sees art in a different way."
Before becoming the artful creative force behind Dessert Graffiti, Bazaar Beverly Hills Head Pastry Chef Mitzi Reyes trained in the sweet arts at Le Cordon Bleu, served as Sous Chef at Dominique Ansel Bakery in Los Angeles, and rose through the ranks of pastry at The Bazaar.
1) Let's start from the beginning. What lured you to the sweet arts?
I got a job offer to take over the pastry area in a restaurant, at the beginning I didn't want to be in pastry but once I started working I felt in love. Everything needs to be precise and millions things can affect the process so understanding them makes it fun.
2) You're from Mexico City, a culinary destination in its own right. How do you feel your heritage has influenced your work as a pastry chef?
My culture has a big influence of what we do, from flavors to colors, smells, and mostly memories growing up. I always try to tell a story with our desserts, from drinking a cup of Chamomile tea on raining days to eating grandma's Arroz con Leche. Being an immigrant and running a very extend pastry program, I feel you have to tell a story to always remember where you are from and where everything started.
3) So, Dessert Graffiti. You were a Sous Chef at The Bazaar when Chef José Andrés had the idea to create Dessert Graffiti. What was the process like to bring that dream to life?
It was fun and difficult. We really didn't know where we were going, or how to start the process, but once we noticed how customers reacted to it made it easier.
4) How did diners take to the first Dessert Graffiti, and how has it evolved over the years?
At the beginning it was challenging, some people love eating from a platter and some others not so much. I think we have been helping our customers learn to have fun while eating delicious desserts. Now we have costumers that have tried every single Dessert Graffiti and looking forward to the next.
5) How is each Dessert Graffiti created today, from concept to final creation?
We first pick a charity we want to help, then we pick a theme or name. After that, the whole kitchen gets together and we brainstorm ideas from flavors, colors, animals, memories, or things we love and we come up with a menu. During the R&D many things may change as many ideas may not work in our daily production or just don't work. But creating Dessert Graffiti is great for us – we keep changing, moving forward, and learning every single day which my cooks love.
6) How many Dessert Graffitis have you created to date?
Six! Strawberry Fields, Farmers' Market, Under the Sea, Bee My Money, Jungle, and Piñatas.
7) Which theme has been your absolute favorite and why?
Farmers' Market, because we managed to make veggies into desserts. It was so much fun playing with flavors and colors.
8) If you could only eat one item from the Patisserie for the rest of your life, what would it be and why?
Our cheesecake. It's super fun and not your regular cheesecake and I loooove stone fruit.