8 Questions With Elani Gardner, Assistant GM of Bazaar Meat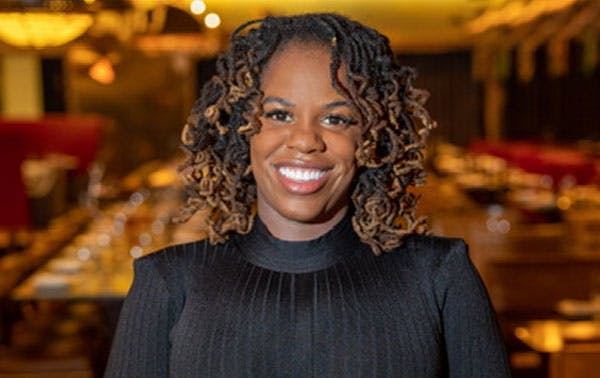 1) Tell us about yourself (and welcome!) How did you come to Bazaar Meat?
So happy to be here! After I graduated culinary school in CIA, I came home to Las Vegas and was driving around looking for jobs with my sister. We were not having too much luck so we decided to go home. We turned down Sahara and saw a sign that said Bazaar Meat opening this summer. I screamed so loud and told my sister I have to work there. She immediately did a u-turn and a car hit us. Needless to say, Bazaar has always made an impact on my life. I opened the restaurant as a cook on the josper oven then on the grill, and made my way to the meat bar. After the first year and a half I left to become a chef at Joel Robuchon. After that I ventured to front of house working at various properties with MGM and Cosmopolitan. Finally making my way back here as the Assistant General Manager. This is a very full circle moment for me and I am thrilled to be back home.
2) What was the moment where you knew you wanted to work in restaurants?
I am a naturally hungry person. I love food! I'm hungry for knowledge and always hungry for a challenge. Restaurants seemed like the only logical choice. Restaurants are somewhere that my love and hunger can be fed.
3) What's your favorite dish on the menu?
Robouchon potatoes. It's a brilliant excuse to eat a bowl of butter. The legacy behind it adds to its richness. It makes so much sense with a variety of proteins and even veggies. Can't go wrong with it.
4) What is an underrated dish you think guests should know about?
The Vittore. The brown butter croutons are the real star of the show but the entire dish should definitely get more love.
5) What's your favorite cocktail?
Foggy Hill is our awesome twist on a negroni. It has a lot of flare. Our "orange slice" comes in a foggy form and it's always a head turner when it goes through the dining room.
6) What's your favorite thing to cook at home?
I love to bake. Over the past year I perfected my Matcha crème brulee and Ube piezookie recipe. Easily new favorites in my household.
7) What's your favorite thing about living in Las Vegas?
The variety. There's a variety of people which means a variety of cultures and a variety of amazing food everywhere. I've been here since I was 5 years old so I've seen this city blossom into a micro metropolitan area of incredible cuisine, and I'm just so happy to be a small part of it.
8) What are you looking forward to at the Bazaar this summer?
I am looking forward to some fun events that we have planned. It's nice to see the city getting back to normal and Bazaar as well.